Kamailio Practical Workshop
Kamailio Practical Workshop is a new concept of knowledge transfer event offered by Asipto, coordinated by one co-founder of Kamailio, a person with many years of expertise and hands on experience with VoIP and Rich Communication Services. It combines consultancy and training services, targeting to offer practical results that are needed by each participant.
Kamailio (former OpenSER) SIP server is a winner of InfoWorld Awards: Best Open Source Networking Software, confirming one more time it is the leader of Open Source SIP servers out there.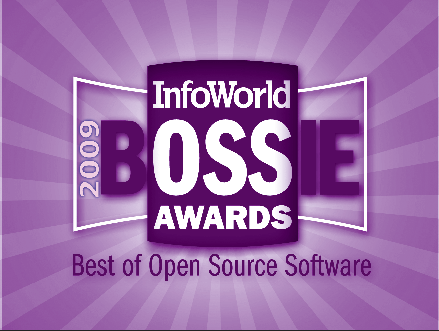 The workshop will be done using Kamailio latest stable releases (3.2.x or 3.3.x (to be released in June 2012)), a choice of each participant.
Kamailio project continues the work done within SIP-Router.org, offering since 2010 the same source code and all combined features together with SIP Express Router (SER), giving you the most powerful tools to build stable, very performant and features rich VoIP and Unified Communication platforms.
All together, the project accumulated over 10 years of development and thousands of production deployments (some references here), offering over 150 modules, from carrier oriented needs, like least cost routing, load balancing, traffic shaping, to residential services as call forwarding, hunt groups, call baring, instant messaging and presence, making possible a large range of specific deployments.
The structure of the workshop:
each participant comes with own set of requirements to build Kamailio-based platforms during the workshop
the coordinator will identify the topics of common interest and have dedicated sessions for them
participants can group together to work and achieve the building of VoIP systems they need
the coordinator will be there to guide, help to build and troubleshoot during the workshop
Click next image to download the brochure of the event for more details!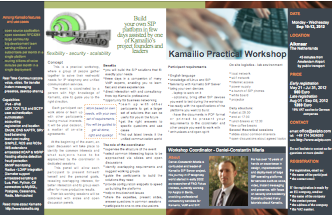 At the location of the event, participants have access to:
local network
electricity
internet
projector
white board
few SIP phones that can be used for testing
Each participants has to bring:
laptop (computer) to work on it
optionally, other devices that are intended to be used or tested during the workshop
Benefits:
spend time to build exactly what you need, guided by top Kamailio consultants
business networking with other companies in the same market
interact with leaders of Kamailio project, ask questions and find out the best solutions for your requirement
Event coordinator:
Daniel-Constantin Mierla, co-founder and leader of Kamailio project
Date and Location:
September 10-12, 2012

Alkmaar, The Netherlands (45 min from Amsterdam airport)
Price:
early registration – before August 21, 2012 – 960 Euro per participant
late registration – before September 05, 2012 – 1260 Euro per participant
Note that 19% VAT is added to German companies.

Number of seats are limited, register now! Participants are accepted in first-come-first-served policy!
For registration or more details, please contact us.