ASIPTO offers a series of training classes and professional certification programs for Kamailio SIP Server. Backed up by two co-founders, Daniel-Constantin Mierla and Elena-Ramona Modroiu, the certifications attest your professional level of knowledge about Kamailio SIP Server, as administrator or developer.
Certified Kamailio Professional Administrator – this certification program verifies your skills as a Kamailio SIP Sever administrator. It consists of a set of questions related to the last stable release of Kamailio and a practical exercise where you have to build the Kamailio configuration file according to given specifications.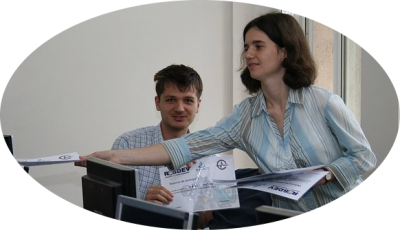 To pass the certification program, you need to have advanced knowledge of Kamailio and SIP, sustained by a long experience with these technologies. It is recommended that you read the documentation available at Kamailio SIP Server web site, have familiarity with the configuration file and attend a course about basics of SIP and Kamailio SIP Server.
Enrolling for Kamailio Certified Professional Administrator program:
contact us via this form, give your contact coordinates and we will send back further details
you will get a list with documents to read and the fields you should insist on for better understanding and learning
you will get access to a web portal with the questionnaire which has to be completed in a specific interval of time
you will get the specifications for the practical exercise and have to return back the configuration file in a predefined time
you can attempt two times to pass the certification in 3 months time since enrolling in the program
you will receive a paper certificate and the formal notification letter, both signed by Kamailio co-founder
Benefits of being a certified Kamailio Professional Administrator:
direct references from well known people in the industry, developing and leading Kamailio SIP server
discounts to the events and training programs organized by Asipto
partnership programs for services and solutions offered by Asipto
advertising and assistance for finding jobs or projects related to Kamailio, SIP or VoIP environment
Students of our trainings can apply for other types of certificates:
Kamailio Certified Developer
Kamailio eLearning Class Graduate
The price is 230 Euro (plus 19% VAT when applicable according to European Union legislation).
Persons attending one of our Kamailio Advanced trainings benefit of one certification attempt free of charge.
For more details and registration, please contact us.