SIP Solutions
Built around the Kamailio (OpenSER) SIP server, integrating other popular Open Source applications and technologies (Asterisk, FreeSWITCH, SEMS), Asipto's solutions offer the shortest time to roll out your SIP or WebRTC service, leaving open the way to extend to new functionalities as you go.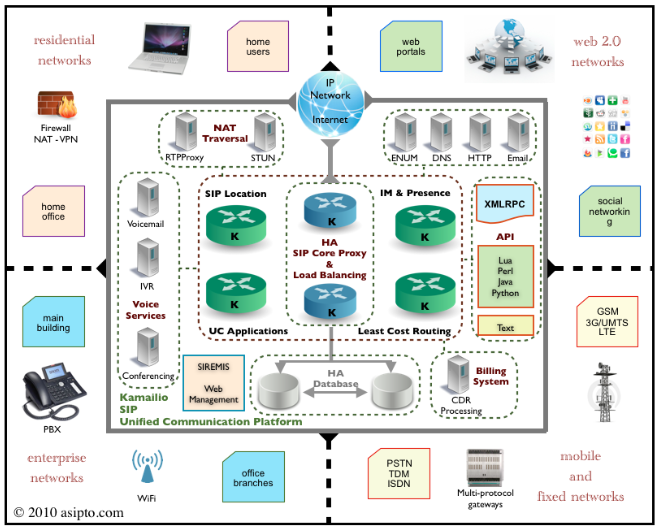 ASIPTO-UCP
SIP Unified Communication Platform

IP communication sessions (voice, video, gaming, a.s.o.) with NAT traversal support

presence and instant messaging

administrative web front-end

dns based addressing, multiple domains enabled

rich telephony features and media services

accounting, least cost routing and enum peering engine

ASIPTO-LBD
SIP Load Balancer

hot plug of new components in the SIP network
customizable load balancing rules
redirect traffic based on DID or service type
secure the SIP internal network
high availability and failover

ASIPTO-SPE
SIP Prepaid Engine

real-time charging and SIP session disconnect

per-second precision billing

multiple charging plans

cost and time unit per destination

voucher system for loading credit

listen the credit value

ASIPTO-NPS
SIP Number Portability Server

solve number portability demands in SIP networks with focus on performance and scalability

seamless integration with any SIP server

high capacity of records for ported numbers

dual mode: redirect server or proxy server

processing of thousands of requests per second

interrogation from one or many SIP servers at the same time
For more details, please contact us.