Kamailio World 2017 – Registration Is Open!
The registration for the 5th edition of Kamailio World Conference & Exhibition is now open! More details and registration forms are available on the website of the event [1].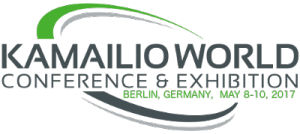 Like at the previous editions, the event spans over three days, May 8-10, 2017, taking place in Berlin, Germany. The first day contains the technical tutorials, the following two days are for conference presentations and exhibition.
The Call For Speakers is still in progress, but we already have a consistent group of confirmed speakers, with a very good balance of new and returning presenters, among them: Allison Smith, the famous world wide IVR and Asterisk voice; Fred Posner, Kamailio's USA-based heavyweight; James Body with the challenging Dangerous Demos; Randy Resnick, the founder of the weekly VoIP Users Conference podcast; Sandro Gauci, the author of SIP Vicious (aka SIP Friendly Scanner).
As usual, expect a big group of Kamailio developers such as Alex Balashov, Carsten Bock, Olle E. Johansson, Andreas Granig, Victor Seva, Elena-Ramona Modroiu, Dragos Vingarzan, Daniel-Constantin Mierla as well as members of Asterisk and FreeSwitch projects.
Keep an eye on the website of the event, soon we will publish more details about accepted speakers and the first draft of the agenda.
Looking forward to meeting many of you in Berlin at Kamailio World 2017!